Have you ever wondered how Tucson's wages fare when compared to other metropolitan areas around the West or which occupations in Tucson earn the most, the least? Tucson's median wage for all occupations in 2015 was $33,000, which ranked 10th among metros tracked on the MAP Dashboard (exhibit 1). Occupational wages are important to a region because they influence relocation decisions, as well as educational choices among residents. When comparing wages across regions, it is important to keep in mind that the cost of goods and services can vary substantially between metros. Therefore, actual published wages are not always a true representation of how well-off a region's residents are in terms of wage levels. Local wages adjusted by the cost of living can provide a much clearer reflection of purchasing power.
Exhibit 1: Median Wage for All Occupations (2015)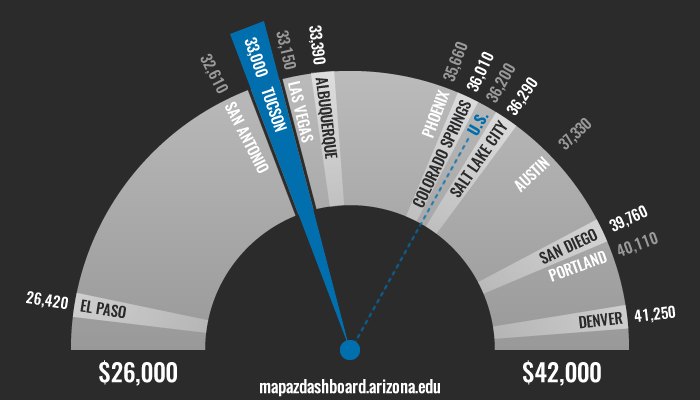 The price of goods and services in Tucson was relatively low in 2014 at 2.9% below the U.S. average. The latest year for which cost of living data is available is 2014. The cost of living, measured by the Regional Price Parities (RPPs), compares prices and living expenses across a wide range of items, including: housing, food, and healthcare. The cost of living allows for comparison of how expensive it is to live in one city or state versus another. This is an important consideration when relocating and/or during wage negotiations. For example, the same wage may go far in a city with a low cost of living but be insufficient in an expensive city.
To read more visit From Doctors to Crossing Guards: Wages and Purchasing Power in Tucson. To view the cost of living adjusted median wages for all 525 Tucson Occupations reported by the BLS visit the Occupations in Tucson by Cost of Living Adjusted Wage PDF.
To explore the median wage for all major occupations in detail visit the Median Occupational Wage indicator on the MAP Dashboard. To view the cost of living broken down into sub-categories or learn about the inflation rate over time visit the Cost of Living indicator.